If you suspect asbestos is in your building, your best course of action is to engage asbestos lab testing and removal services. The nature of asbestos materials and the effects they can have on your health make this a very dire situation which must be handled speedily and carefully. DIY asbestos tests may seem like an alternative for those looking to save financial resources but the possible risks associated with this methodology are too high. Hence the team at All Clear Environmental would like you to know why asbestos testing and removal should be left to experts.
Professional Asbestos Lab Testing Is Accurate
Asbestos fibres are minute in size and can look like other fibrous materials or insulation. The most reliable way to identify asbestos is with trained experts using specialized equipment like microscopes to analyse the suspected substance. Hence, the best way to identify asbestos is with lab testing. Experts safely extract a sample of the material and transport it to a testing laboratory where the analysis is carried out under controlled conditions. This ensures that there are no external factors to influence the test's results and allows for only accurate readings. DIY asbestos tests do not provide that same level of accuracy. The testing kits provided online or in stores will rely heavily on the expertise of an average citizen. Any errors during the sample collection stage will heavily affect the test results. Given how important the results of an asbestos test are, getting an erroneous result due to human error can lead to grievous harm or unnecessary panic and stress.
Professional Asbestos Lab Testing Is Safe
Asbestos is a fibrous material that is prone to breaking apart into minuscule airborne fibres. When breathed in, asbestos can cause many health conditions, including mesothelioma and lung cancer. As such, handling asbestos for testing is a dangerous proposition that should not be taken lightly. Only professionals in asbestos removal and testing should handle situations where asbestos is suspected. They will have the necessary knowledge to extract the substance as safely as possible and transport it for testing. The experts will also have the equipment to protect themselves from any asbestos fibres in the air and the required containment devices to hold and transport the material for testing. DIY asbestos tests cannot provide safety at the level of the professional test. The expertise and equipment needed to ensure personal protection are not available to the average person. Hence, performing asbestos tests without professional services is a dangerous gamble that can have long-term health consequences.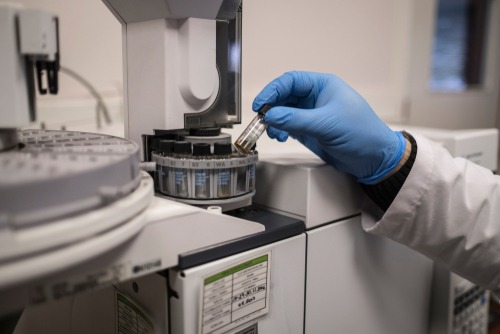 Professional Asbestos Lab Testing Prevents Further Spread
The fibrous nature of asbestos and its tendency to break apart into tiny fibres that can become airborne also allows them to spread easily. This becomes a bigger problem if the fibres manage to enter a building's ventilation system. This could expose all the building's residents to asbestos fibres. Professional asbestos removal and testing involve techniques and equipment that mitigate and eliminate the risk of asbestos spreading. The area where the suspected asbestos sample can be sealed off and enclosed from the rest of the building (Enclosure). This minimizes the risk of asbestos spreading during the remediation process. If the material in question doesn't require removal, it can be covered with a coating designed to prevent asbestos fibres from breaking off. (Encapsulation) The extraction of asbestos is done with biohazardous containment devices that are labelled properly (Removal). The materials are monitored carefully until they can be disposed of properly. A HEPA (High-Efficiency Particulate Air) vacuum and other equipment are used to sanitize the area after the removal is complete (Cleanup). DIY asbestos abatement lacks the proper tools and expertise to effectively corral the spread of asbestos fibres. It could actually worsen the situation by releasing more fibres into the atmosphere. This will lead to more people breathing it in and cause serious health concerns.
All Clear Environmental - Ontario's Leaders In Asbestos And Mould Removal
Asbestos lab testing and removal are tasks that should be left to professional services. Without the right techniques and equipment, asbestos fibres can create a significant health hazard with effects that last for long periods after exposure. The affordability of DIY asbestos tests may be tempting but the price you pay elsewhere will not be worth what you save. Please contact us if you have any needs with regard to asbestos remediation. All Clear Environmental employs a certified team of asbestos testing and removal experts. We can properly assess your exposure levels and perform any abatement tasks required. Choose us to make your building safe for you and for future generations.
MORE BLOG POSTS
Commercial demolition services are a vital component of the building sector and are crucial in laying the groundwork for new development or renovations. These services, provided by demolition contractors, include site preparation, the removal of hazardous materials, the dismantling of structures, the cleanup of debris, etc.
Any business looking to take down part or all of a structure should engage the services of demolition contractors. Hence, the team at All Clear Environmental would like you to know how commercial demolition services can aid your business.
What Are Commercial Demolition Services?
Commercial demolition services is a term that envelops the process of tearing down or destroying structures, buildings, or other business properties, such as factories, office buildings, retail centres, and other commercial structures. To ensure that the structures are dismantled safely and effectively, the demolition process makes use of specialized tools, methods, and safety procedures.
Commercial demolition services may be necessary for a variety of reasons, including building upgrades, expansions, or redevelopment projects. A variety of services, such as site preparation, hazardous material removal, structural disassembly, and waste removal, can be offered by demolition firms. 
A complete examination of the site needs to be done before any demolition work can start to find any potential hazards that might need to be taken care of before demolition, such as asbestos or lead. Throughout the demolition process, demolition contractors must also secure the required permits, follow local laws, and uphold safety standards.
Benefits of Commercial Demolition Services
Businesses that need to remove or demolish buildings and other structures during their operations should depend on commercial demolition services. Here are some reasons for the significance of commercial demolition services:
Safety
Demolition work can be dangerous and must be done carefully with specialist knowledge and tools. Professional demolition contractors utilize specialized tools and are educated in safety procedures to reduce the possibility of mishaps and injuries. Businesses that care about the security of their workers, clients, and surrounding properties should pay particular attention to this.
Regulatory Compliance
Businesses must abide by regional laws and safety rules during the demolition process. Demolition contractors are knowledgeable about these rules and can secure the required licenses to guarantee that the demolition work is done per all relevant laws.
Efficiency
Contractors who specialize in demolition have the tools and knowledge needed to dismantle buildings fast and effectively. Because it minimizes downtime and lessens the interruption to their operations, this is crucial for businesses that need to prepare a site for new construction or renovations.
Waste Management
The garbage produced by demolition projects must be appropriately managed. Due to their expertise in waste management and ability to recycle items that can be used again, demolition contractors can minimize the negative effects of their work on the environment. Also, they can safely and properly dispose of hazardous trash, ensuring that organizations follow environmental standards.
Reduced Costs
Long-term costs of hiring a qualified demolition contractor may be lower. They have the know-how to finish the demolition process fast and safely, lowering the possibility of harm to neighbouring structures or worker casualties. By doing this, it may be possible to avoid pricey legal battles or insurance claims that can result from mishaps during the demolition process.
Facilitated Renovations
Business demolition services may be crucial to remodelling initiatives. To make room for new additions or alterations, remodelling projects frequently call for the removal of old structures or portions of a building. The necessary services to disassemble and remove these buildings safely and effectively, as well as remove debris, can be offered by demolition companies.
All Clear Environmental – Licensed & Insured Commercial Demolition Services
Commercial demolition services are crucial to any business that needs to remove structures during its operations. Using a qualified demolition contractor allows businesses to minimize the risk of mishaps, injuries, legal issues, and insurance claims by ensuring that the demolition process is carried out safely, effectively, and per all necessary legislation.
Please contact us if you need commercial demolition services. For more than ten years, All Clear Environmental has offered commercial demolition services to its clients in southern Ontario. All the tools and expertise required to complete a business demolition project are possessed by our team of certified, skilled, and insured demolition professionals. Our responsibility is to keep your commercial area tidy while avoiding disruptions to your regular business operations.
FREE
QUOTATION
Call us now to schedule a visit to assess your asbestos or mold situation.