Licensed & insured residential demolition contractors providing affordable, experienced, and high-quality demolition services all across Ontario.
Trusted & experienced residential demolition contractors 
Are you looking into starting a renovation project? Will your renovation involve the need for demolition services? Depending on the scope of your project, there's a likelihood that you'll need help with demolition. The team of residential demolition contractors at All Clear Environmental have 10+ years of experience in providing high-quality residential demolition services all across Ontario.
As fellow home-owners, we know how important your home is. That's why we work tirelessly to provide exceptional service, make sure that your property stays clean, and that everyone is safe. Our team is insured, licensed, and trained to execute a residential demolition project from start to finish.
Not sure if your renovation will require any type of demolition? Contact our team of experienced contractors and demolition experts and we'll help determine your needs and can also provide you with a free estimate!
Interior & exterior demolition services 
When most people think of demolition, they often have a wrecking ball image that comes into their mind. While that might be required in some demolition projects, there are also many different types of demolition methods that are more commonly used. Common tools, machinery, and equipment used for residential demolition projects include: bulldozers, excavators, skid steers loaders, and other smaller electrical power equipment tools. Residential demolition services can be used for a wide variety of projects and renovations, including:
Garage Demolition
Interior & Exterior Demolition
Deck & Patio Demolition
Bathroom & Kitchen Demolition
Complete & Partial Demolition
Pool Demolition
And More!
Reasons for needing residential demolitions services vary from renovating a single room, to removing an entire structure. Whatever your residential demolition needs are, All Clear Environmental has you covered! With every residential demolition project our team takes on, we take the time to properly address your needs and create an efficient solution.
Working with us: Our demolition Process
Whether it's a selective, mechanical, or excavator demolition, a residential demolition project requires thorough planning, meticulous prep work, and quality home inspections. As part of our process, the first step is having our team of demolition experts visit your property. We will perform a walkthrough in order to understand what the project entails and to provide you with an accurate estimate.
Once we have a good understanding of the equipment we'll need, the estimated timeline, and your budget, we can provide you with a step-by-step demolition strategy for your project. Once everything is confirmed, we get to work right away. We start by prepping the work site to set up for a successful demolition. Contact our team today to get your property inspected and assessed to understand the scope of your demolition needs!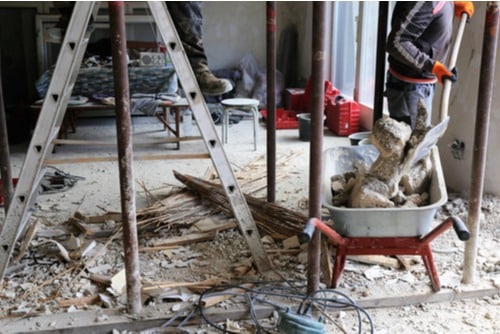 Residential Demolition - FAQS
Licensed & Insured commercial demolition contractors
All Clear Environmental has been providing commercial demolition services for over 10 years to our clients all across southern Ontario. Our team of licensed, trained, and insured demolition contractors are equipped with all the tools and experience necessary to efficiently execute a commercial demolition project from start to finish. It's our job to not interrupt your day-to-day operations and to keep your commercial space clean.
If you're looking for experienced and reliable commercial demolition services in southern Ontario, then look no further than All Clear Environmental. Whether it's an interior or exterior demolition, All Clear will get the job done right the first time.
Contact All Clear Environmental today to get our certified demolition inspectors to come in and assess your commercial space. We can provide you with a free on-site estimate!
OUR COMMERCIAL DEMOLITION PROCESS
The demolition experts at All Clear Environmental will start by visiting the site. We need to get a clear understanding of project specifications, dimensions, and to curate a list of equipment required for the job. Once a plan is established and approved, our team will make sure to take all necessary precautions to set up for a successful demolition.
Our team uses industry-leading techniques and state-of-the-art equipment to ensure that our crew stays safe and provides efficient and effective results. We cater to our client's needs, so whatever is needed for their demolition project, our team is ready to take on the job.
Contact us today to schedule a consultation, a property walk-through and an assessment to get you a free estimate for your commercial demolition project!
Fully Insured & Certified
Our staff has gone under intensive training and is fully certified in asbestos abatement and mold remediation. Our supervisors are certified by the ministry of training colleges and universities (MTCU). Our staff has also been trained and certified by (AAS 253S) and (AAW 253W).