Certified Mold & Asbestos removal professionals in Cambridge, On.
We Offer Professional Removal of Mold, Asbestos, & Lead Paint to Ensure That Your Home Stays in Great Condition Over the Years. We Offer Demolition Services as Well!
Premier Asbestos & Mold removal and testing service in Cambridge, ON. 
Here at All Clear Environmental, We Are Leaders in the Professional and Safe Removal and Testing of Asbestos, Mold, and All Sorts of Hazardous Materials. We Have 10+ Years of Experience in Helping Homeowners Live in a Healthy & Safe Environment. Our Services Are Offered in Toronto, Waterloo, Kitchener, Cambridge, London, Hamilton, Brantford, Woodstock, Saint Thomas, Guelph, Stratford, and All the Surrounding Areas of Southern Ontario.
Professional Abestos removal – Cambridge asbestos specialists
Asbestos is a very hazardous material that causes many health issues to the residents of any property that is affected. It is highly recommended that Asbestos only be removed by professionals, Which is why we recommend contacting us if you suspect asbestos in your property. Our professionally certified asbestos removal team follows the highest measures of safety during the process of asbestos remediation – to ensure the safety of both our workers and the property's residents. We follow Ontario's regulations and guidelines when completing a project to ensure your Cambridge asbestos removal project is done properly, safely, and effectively
#1 Mold remediation service in Cambridge  
Mold is a hazardous element that can severely affect the health of residents of a house that is contaminated. This is why you need to get professional help to treat this issue carefully and professionally if you suspect potential mold contamination. Our team will effectively detect and remove mold from all areas of your property and isolate the affected areas to ensure the safety of your family.
We are highly trained and certified to handle every type of mold removal project. We strictly follow Ontario's provincial regulations and guidelines to ensure the job is done right so that your family can enjoy a safe living space.
Professional lead paint removal & demolition services for residential & commercial properties in Cambridge, ON.
All Clear Environmental has been providing lead paint removal and demolition services to residential and commercial properties in Cambridge for 10+ years. Our lead paint removal and demolition crews are fully certified and are capable of handling each and every project safely, efficiently, and effectively. Reach out to our team for a no-obligation, free estimate. We believe in taking care of all the dirty work to keep your residential and commercial spaces safe so that you can enjoy your space without worry.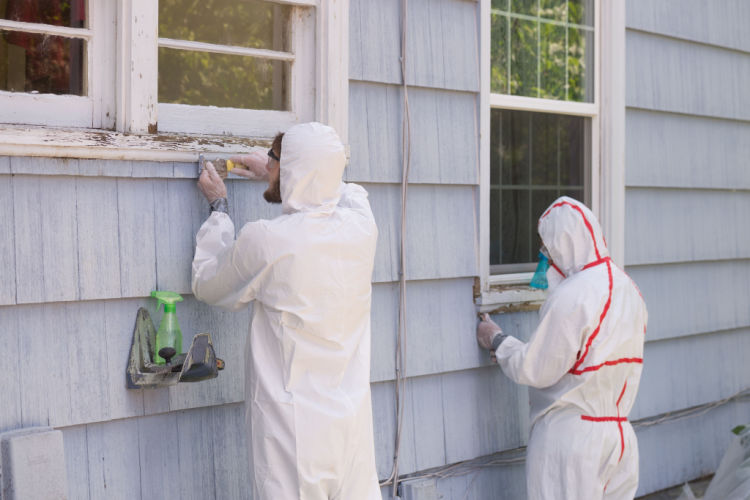 Professional lead paint removal services
Suspect that your home or commercial property has lead paint? it's important that you get it tested and inspected by a certified professional. If not dealt with properly, lead paint exposure causes severe lasting health effects. Hazardous materials like lead paint need to be handled with rigorous safety measures, specific equipment, and professional training for handling and disposing of it properly. Save your time & effort and call the professionals. Your safety is our #1 concern.
Residential & commercial demolition services
Our team of experts has dealt with both residential & commercial demolition projects. Regardless of whether the project is interior or exterior demolition, our team of licensed demolition contractors will plan each project according to the specifications as we understand each project is unique. We are certified professionals and have the experience, technical skills, and manpower required to ensure your demolition and renovation project is on time and within the quoted budget.
Contact us to learn more about our demolition services!
The very best place you could use to get your asbestos removed. Friendly staff. Great prices! Amazing service!
Nancy G Photography
16 May 2023
Julian and Juan were great! Mo came out gave me an estimate to remove asbestos duct work right away and the work was scheduled and done without having to wait weeks. I definitely recommend All Clear Environmental.
Precise Projects
1 May 2023
Moacyr (our project lead) and the All Clear team were responsive, detailed, and worked with us through discovery of new asbestos materials found while working through a large project. As a custom home builder, we trusted their team to execute abatement work in a fair and professional manner and they did. Looking forward to working with this team on the next project.
Very pleased with the work ethic of All Clear Environmental
Garry Kinzie
21 March 2023
These guys were great. On time, pleasant. Courteous. No mess when they finished. I had them remove my asbestos. It was done professionally and I am confident it was done rightl.
From the first contact with Moacyr from All Clear Environmental who came out to estimate my mould remediation, to the completion of the project in my family room today this firm exceeded my expectations. Customer Service was clearly evident in how they conduct business and how proficiently their crew works. Very professional,organized,respectful and available to answer any question or concern. The crew even grabbed shovels and helped me clear my driveway this morning after the load of freezing rain that was dropped last night. Now that's going over and above! I'm so pleased with their service and confident that they fully remediated the mould that had spread in the area my little grandchildren play and I'm happy they can play there safely again. When thinking of a company to hire…look no further than All Clear Environmental.
Mo was very helpful answering my questions about asbestos and recommending a lab to have testing done. Highly recommended.
Kathleen Wendling
24 October 2022
All clear is amazing. They were so kind, professional and provided excellent service. All the workers that came into our home were so professional which help get through a challenging situation. I would recommend All Clear to anyone.
Nadine Ulrich
27 September 2022
Excellent service! We used All Clear Environmental to get our popcorn ceiling tested for asbestos. They were quick to respond to my emails, informative and priced well. Moacyr was extremely friendly, and professional and showed up on time. We also got the results quickly. I would definitely recommend them!
Fully Insured & Certified
Our staff has gone under intensive training and is fully certified in asbestos abatement and mold remediation. Our supervisors are certified by the ministry of training colleges and universities (MTCU). 
Our staff has also been trained and certified by (AAS 253S) and (AAW 253W).